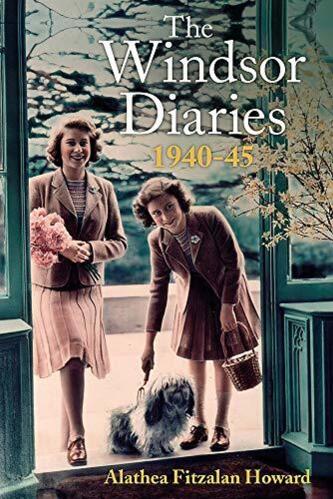 The Windsor DiariesAlathea Fitzalan HowardHodder & StoughtonReview: Lauren O'Connor-May
Harry and Meghan's surprising exit from the royals and series like The Crown have put the British monarchy in the spotlight again.
Suddenly, books and documentaries about the royals, and everyone connected to them, are everywhere, again, and while The Windsor Diaries tells part of the life story of an aristocrat, central to the story is Queen Elizabeth and her younger sister Margaret.
Alathea Fitzalan Howard bequeathed her diaries, several shelves worth, to her nephew's wife, Isabella Naylor-Leyland, who was several decades younger than Alathea but a dear friend in her old age.
The diaries span several decades and Alathea requested that, after her death, they be published.
The Windsor Diaries are the first five years of the collection. These five diaries tell of Alathea's wartime experience in Windsor Great Park.
The then Princess Elizabeth and Princess Margaret had been sent to the neighbouring Windsor Castle for safety, and Alathea, who was a few years older, was their frequent guest.
The diaries tell of Alathea's lonely, often depressed teen years and she frequently sought solace in the friendship of the princesses.
Despite being wealthy and almost titled, Alathea's life was very lonely and sad. Her parents had separated and her mother, with whom she had never had a close relationship, was critical and unaccepting of her. She lived with her elderly grandfather and her strict spinster aunt.
Most of the diary entries are about her time spent with the princesses; drawing, dancing, visiting, and watching movies.
Other aristocrats, soldiers, peers and colleagues make an appearance and the abundance of footnotes detail their backgrounds and what became of them.
Central to the story is the wartime hardship.
Alathea's descriptions of rationing, bombing, midnight bunker flights and death, pepper the descriptions of balls, romantic dates and a leisurely life of picnics, Girl Guides and other social outings. Eventually, she trains in nursing and sees even more of the hardships of war but even then, her writing about it is strangely detached – perhaps this was a survival mechanism for a young woman already traumatised by her regular everyday life.
It is unclear whether Isabella plans to publish the rest of the diaries but in the prologue and epilogue, she does give a synopsis of the rest of Alathea's life, with excerpts of the diaries describing what becomes of Alathea and her relationships with the royals after she is separated from them.
Monarchy-lovers would enjoy this book because it gives an interesting perspective of the royals in their youth but readers looking for a gritty war diary should look elsewhere.
It Started with a SecretJill MansellJonathan BallReview: Lindiwe Mlandu
Lainey lost her job at an ancient chateau in France.
She returns home to Britain with her friend, Kit. They are anxious about starting over.
On their way home, they see a job advertisement and decide to go for it. However, they do not meet all the requirements so they tell a little lie.
They get the job and are soon living with a well off family in St Carys. Lainey has to fend off fans from Richard, a retired actor who is part of the family.
Lainey loves the charming but chaotic family but is constantly worried that their little lie may get them fired.
Things get complicated when Lainey falls for Seth, the actor's grandson. Seth, who has his own secret that threatens to shake the family's foundation, tries to fight his feelings for the help.
What happens when all is revealed? Will Lainey and Kit find themselves jobless again? Will the close-knit family fall apart?
It Started with a Secret is a heart-warming romantic novel. It will have you rooting for the characters to have their happy endings.