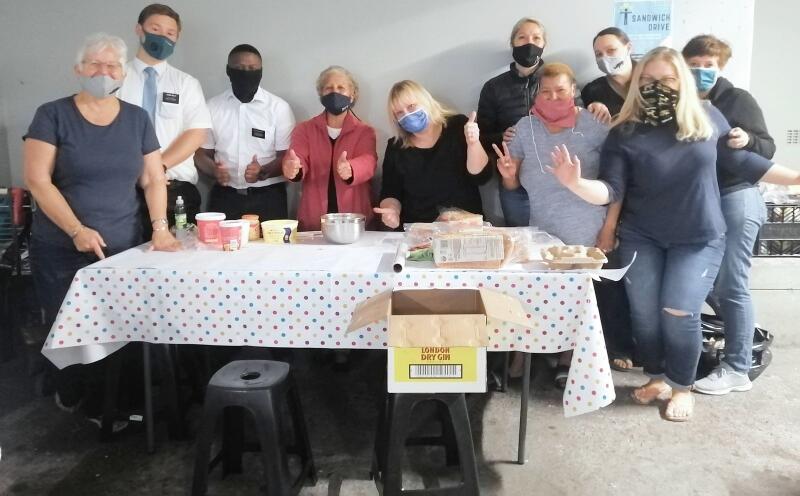 Milnerton civic groups say they have distributed more than 100 000 meals during the national lockdown, but there is still plenty of hunger out there and they continue to need the public's support to sate it.
The Milnerton Ridge Neighbourhood Watch (MRNW) and the Milnerton Community Action Network (CAN) have been spearheading the Sandwich Collection Project, at Paddocks Mall, for the duration of the lockdown.
They have helped people from Milnerton and surrounds, including Rugby, Joe Slovo and Phoenix.
One of the project's organisers is Jacqui Pember.
"When we started collecting, we received and made over 13 000 sandwiches on the first weekend," she said.
"Things now have slowed down because things in the country have gotten a bit better for some, but a lot of people are still in a vulnerable position.
We would like to urge our residents to not stop trying to help those in need, whether it's through our efforts here or any other way they can."
In the first couple of months, the project collected 5 000 to 8 000 sandwiches in a weekend, and volunteers distributed them around the greater Milnerton area.
However, since the middle of July they had been down to about 2 500 sandwiches in a weekend, Ms Pember said.
"People are tired of it, or maybe they think the vulnerable people are in better positions now since the easing of lockdown restrictions.
In actual fact, we still have people who now depend on the work we and other organisations do for a number of communities.
"There are many ways people can get involved in these relief projects. People donate money, their time, food, PPE for the volunteers, transport, etc. We'd like people to carry on helping."
To help further, Ms Pember, Ward 4 PR councillor Ursula Barends, and Phoenix resident Janet Stanfield have started Janet's Junction Community Growth Hub, a non-profit company.
Ms Stanfield, a volunteer with the sandwich project, said she wanted to help people grow their own food so they would not need to rely on handouts.
"I open my house to the community. If they would like to help, they contact me and they play an active role in helping themselves and the rest of their community. This creates a togetherness in the neighbourhood and strong relationships. My two sons have gotten involved as well as my grandkids. They help with the distribution of the food, and we have even started a garden," she said.
To help the Sandwich Collection Project, WhatsApp the MRNW at 076 823 6250. The project still runs every Saturday in the parking lot basement of Paddocks Mall.