Police have stopped a land invasion at a park in Phoenix.
On Sunday January 17, City law enforcement and Milnerton SAPS removed pegged plots from Democracy Park.
There are also vagrants living in the park against a wall, but they were not moved.
"The City is acting to prevent the unlawful occupation of land," said Malusi Booi, mayoral committee member for human settlements. "This operation was conducted in terms of counter-spoliation, which is a legal remedy the City or a landowner has. The City and law enforcement authorities act to uphold the law, and the City will continue to act as best it can and within the legal parameters to prevent the unlawful occupation of land."
Some residents of Joe Slovo and Phoenix say they aren't happy with what the area has become. They say it's a far cry from how it looked just a few years ago.
Cindy Klaas, of Phoenix, said her children had once played in the park, but now it was a dumping ground.
"I remember when we were growing up, we had fun activities, and going to parks was always the best. Now, our children can't even go to their local park because people use it as a dumping ground, and recently, people have been living there and more are planning to live there. It's not only unhealthy for those who live around there but it's also getting potentially more dangerous," she said.
Andile Sam, from Joe Slovo, said he was often embarrassed to tell people where he lived because of what they might have heard of his community.
"Around Cape Town, my community is known to have crime and is dirty. That is not how we all want to live. And those that just occupy land anywhere are adding to many issues here because where will they go to the bathroom? Now the park, and other places where there are squatters, will have human waste, and it will be unbearable to even walk past. Everyone that lives here should have an issue with this."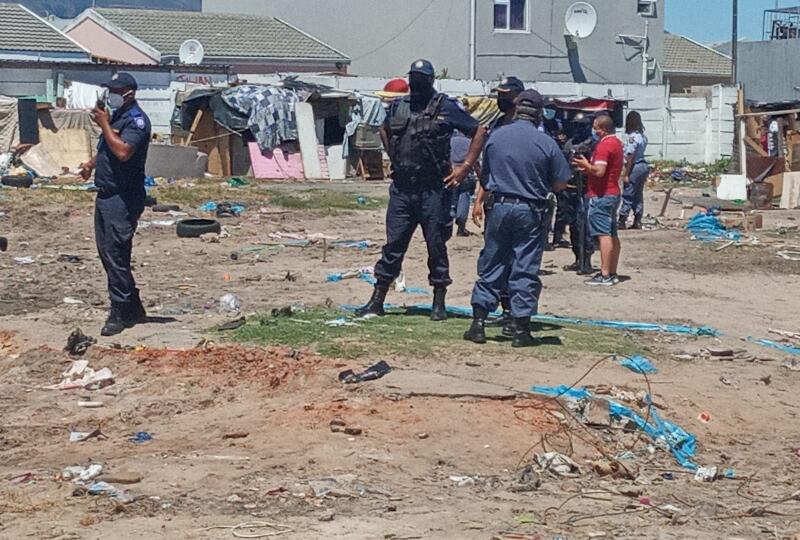 Ward 4 councillor Wandisile Ngeyi said the invasion had happen right after the City had cleaned the area.
"We cleaned here on Saturday and again on Sunday morning. As soon as we were done with that, we got word that people started to demarcate some plots.
"We condemn such action because we can't have anarchy. Yes, we all understand that there is a great need for housing and people are frustrated, but we have to do things the right way. In terms of the vagrants who are already squatting there, we will be applying for a court interdict to have them moved from there."
Mr Ngeyi added: "Some people are just taking advantage of the situation, and sometimes they initiate these land grabs. They do it for greed so they can sell the plots to those that are desperate for housing. This is wrong and it should stop."