Dunoon residents are calling for permanent solutions to the service delivery issues.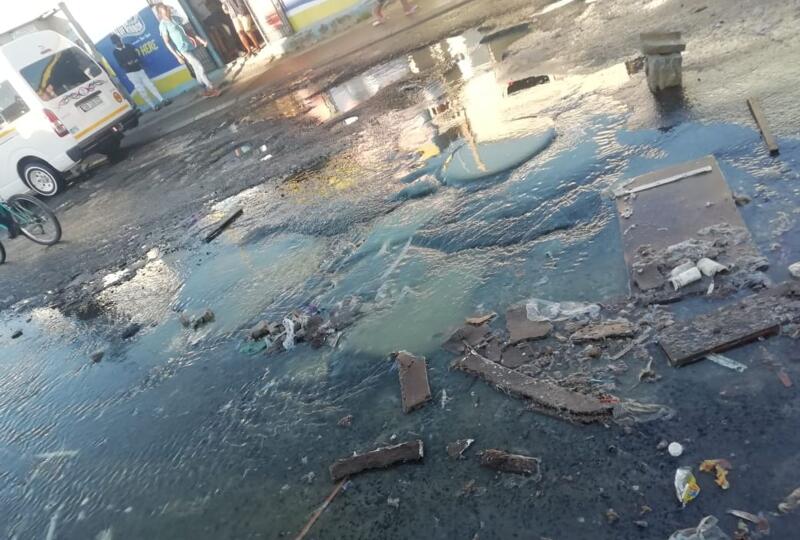 Burst drains, sewage in the streets and potholes have plagued Dunoon in recent months, and residents are pointing the finger at the City of Cape Town.
The residents have even tried to cover overflowing drains with rocks and sand.
Greta Alexander, who lives in Denneboom Street, said sewage had been overflowing from a nearby manhole for the past three weeks.
"For weeks now since November 18, we've had a problem with sewage flowing through our street. I have called the City of Cape Town many times throughout the year for similar issues as well as for potholes, but we don't seem to be helped. I've spoken to (mayoral committee member for water and waste) Xanthia Limberg, sent them photos and videos, but I always get told that they will come fix the issue, but they hardly do. Even on previous occasions when the City comes to clean, they don't do a good enough job because days later we're stuck in the same situation."
Other residents complain of the same issues. Zoleka Chisana, of Dumani Road, said she called the City on a weekly basis but apart from being sent a service-request reference number no help arrived.
"I just get an SMS saying that they've reported my complaint, but I don't see them coming. Last week, a car got stuck in one of the potholes here in our street because of how terrible the road is. The City often urges residents to report potholes and other failing infrastructure, but when we do, it's like no one bothers to care."
Ms Alexander said she feared for her safety whenever she walked through her neighbourhood because she was worried the roads might collapse.
Felicity Purchase, the mayoral committee member for transport, said violent protests in Dunoon in June had stalled the City's plans to do road maintenance there.
"Dunoon was marred by violence, intimidation, and threats to demolish equipment. The contractor could not go on site and put workers' lives in danger. Through this project, we intend to resurface eight of the busiest roads in this community. Other roads forming part of this project are Nomzamo, Nkunkwana, Ngena, Siyabonga, Thandabantu and Usasaza roads," she said.
Covid-19 has also delayed road maintenance both in Dunoon and elsewhere in the city.
In September, Angus McKenzie, chairman of the City's transport portfolio, said the lockdown restrictions had caused citywide delays to road maintenance.
Ms Alexander said that after calling the City many times over the past three weeks, City officials had promised to come last Saturday. However, they had only come out on the Sunday and they had failed to fix the problem because the sewage had been back in the road the next day, she said.
"There needs to be a solution that can be permanent. We can't keep asking the City to come and sort out the same issues all the time. Unfortunately, a lot of places here in Dunoon are in the same position as we are in my street. The City needs to do something about it and sort it out for good," she said.