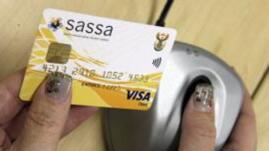 SA Social Security Agency (Sassa) gold cards, which were due to expire in December, will remain valid beyond then and can continue to be used for grant payments, says Postbank.
"Beneficiaries are strongly advised to disregard misleading information that might direct them to change to other card products claiming that the Sassa gold cards are being replaced. Postbank is the only bank mandated to replace Sassa gold cards," said Postbank spokesman Dr Bongani Diako
He said the gold cards would continue to work as normal even after December and could be used to withdraw Sassa grants from any ATM and at retail stores.
"Sassa gold cards offer numerous transaction benefits, including free withdrawals inside retail shops, free three-month statements and balance inquiries. Beneficiaries are empowered because they get their grants money in full and save on transaction costs," he said.