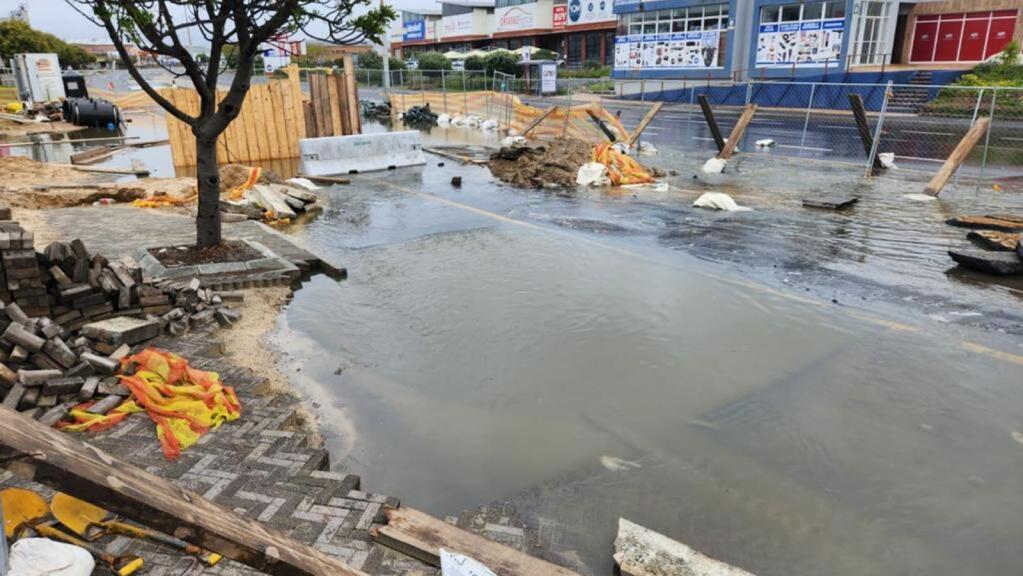 The City's "snail pace" efforts in fixing sinkholes on Montague Drive have caused lengthy delays for the past month, say residents.
On August 21, a giant sinkhole appeared on Montague Drive, just a few weeks later on September 14, a second one appeared just 60m away from the first one ("Two sinkholes in three weeks on Montague Drive," Tabletalk, September 20). This caused traffic delays during the morning and evening peak times.
Ward councillor Anthony Benadie estimated it would take about five weeks to fix each sinkhole, but recent heavy rains flooded the holes that have exposed sewer pipes.
Milnerton Community Police Forum chairwoman Jacqui Pember said: "I saw ladies directing traffic while standing ankle-deep in sewage water last Tuesday, so it's a health risk too. If it rains again, we might have a repeat of the same.
"We experienced a horrific smell last Wednesday morning from the Milnerton Ridge side when those holes had overflowed through the night. It is most unpleasant to have to deal with all their sewer overflows."
The City is currently busy with a R470 million revamp of the sewerage system in the area.
"This complex project entails the construction of a new bulk sewer in Montague Gardens using innovative micro-tunnelling technology. The City will also extend and connect the Edgemead and Century City bulk sewers into the new infrastructure. Once the nearly 4km of new bulk sewer is built by early 2025, the City will divert sewage along this new line while it rehabilitates the existing bulk sewer in Montague Drive, Montague Gardens," the City said in a statement.
Tabletalk emailed questions to the City on Monday morning asking when the sinkholes would be fixed, whether the heavy rains had delayed the repairs and whether the micro tunnelling might have caused the sinkholes, but it did not respond by deadline.
Caroline Marx, Milnerton Central Residents' Association's environmental head, said the need to rehabilitate the Montague Gardens bulk sewer had been identified many years ago.
"Unfortunately the project was delayed for years, increasing the chances of collapses such as now being experienced. If projects identified as essential by City engineers were implemented on time, much of the inconvenience, extra costs and sewage spilling into the environment could have been avoided. It's a nightmare driving there lately," she said.