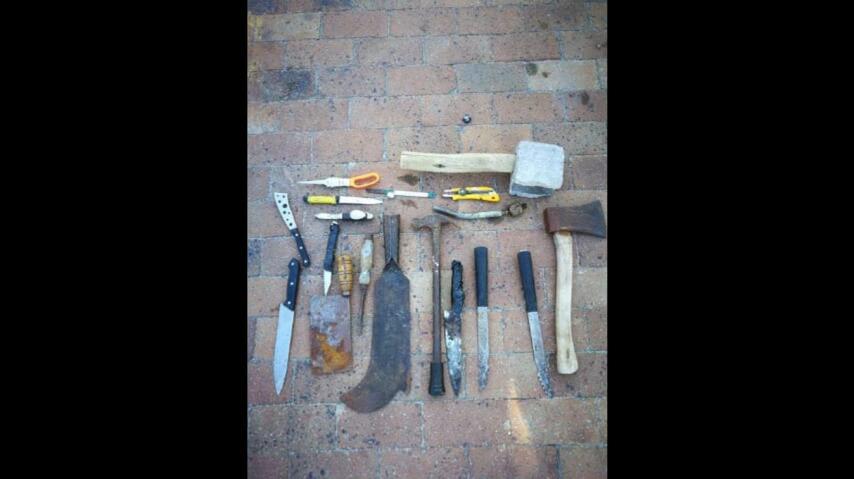 Police have arrested four vagrants in Table View following a murder and a violent robbery.
The arrests come as police confiscated 18 sharp implements – including knives, an axe and a panga – and a crude hammer off trolley pushers in the area.
On Tuesday April 12, officers arrested a man in his 30s wanted in connection with the killing of another vagrant earlier this month.
The two men argued in Parklands Main Road, shortly after 2pm on Tuesday April 5, before the one pulled a knife from a bag and stabbed the other several times before leaving him for dead, police say.
The victim ran along Parklands Main Road before collapsing and dying near Shoprite, according to a trolley pusher who gave his name only as "Bertie" and a security guard who works near the shop and didn't want to be named.
"When police were called to the scene, the suspect had already fled and the victim had succumbed to his injuries. Witnesses informed the police that they knew the suspect, and a description was given," said Table View police spokeswoman Captain Adriana Chandler.
Police did not identify the victim to the media.
A suspect was arrested the following week after an armed-response officer spotted a man fitting his description walking on West Beach Road.
He has appeared in court on a murder charge.
On Friday April 8, a police patrol vehicle was flagged down at Marine Circle near Blouberg Beach, and the officers were notified that a person had been stabbed during a robbery.
"Witnesses informed the police that they know the suspects, two men and one woman, who were all homeless people. The trio, known to police, were found in the area and arrested," said Captain Chandler.
One of the suspects was apprehended on Monday April 11, at 10.20am, and the other two in the early hours of Wednesday April 13.
The 21-year-old woman and the two men, who are in their 30s, had appeared in the Cape Town Magistrate's Court, said Captain Chandler, but she was unable to confirm by deadline what charges they faced.
From Monday April 11 to Saturday April 16, Table View police took shanks, knives and a hammer fashioned from a wooden-handle and half a brick off trolley pushers, according to a statement from the Table View Community Police Forum.