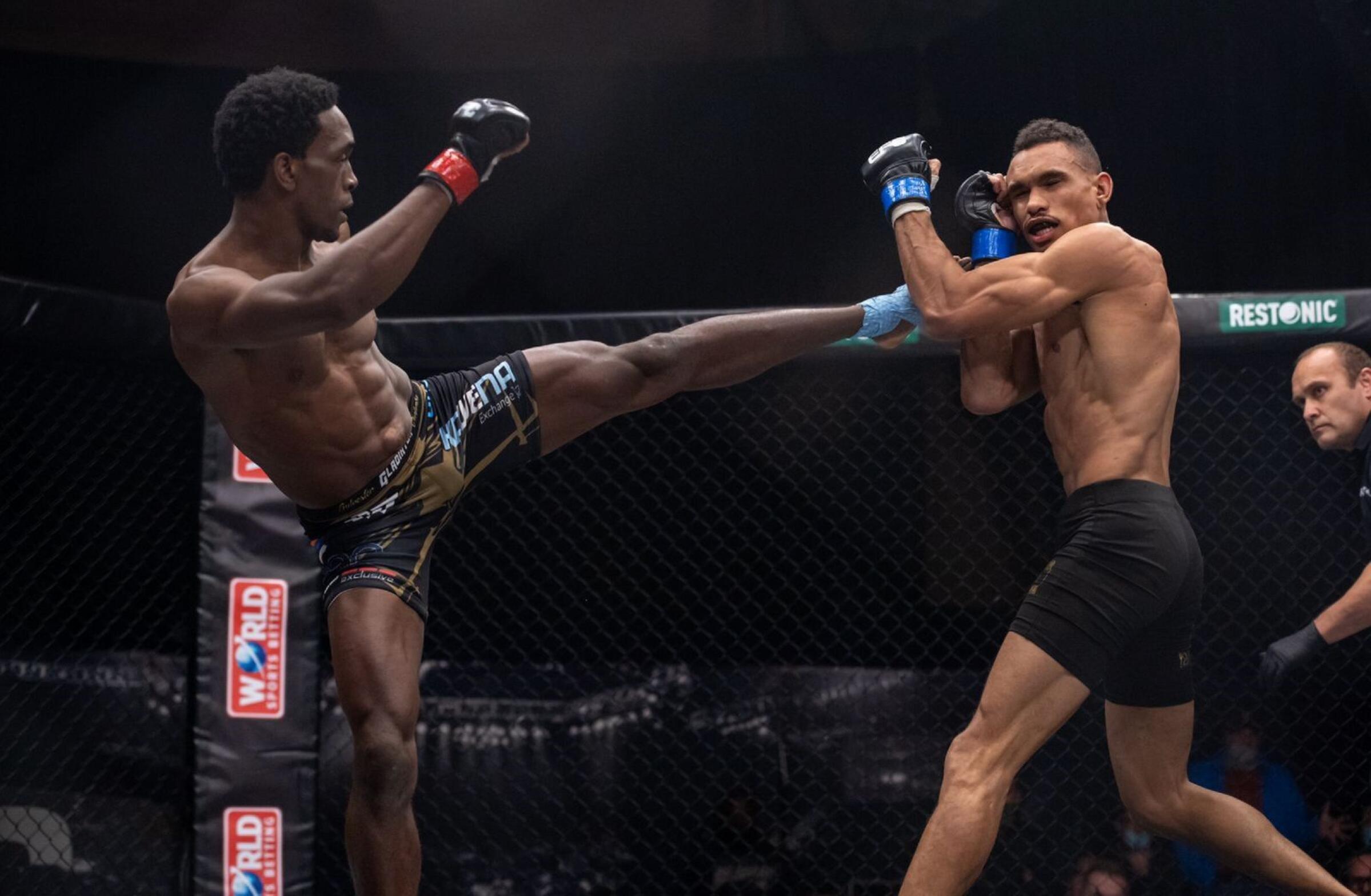 If there is one person who had no doubt that they would be leaving the Extreme Fighting Championships (EFC) with a belt around their waist, it was Sylvester Chipfumbu.
The "Gladiator" is the new king of the bantamweights after having wrestled the title away from Faeez Jacobs who was defending for the first time.
EFC was back in full swing this past weekend after more than a year. Interestingly the last event, EFC84, saw Chipfumbu's teammate and corner man in his last fight, Themba Gorimbo, defending his welterweight title.
Being surrounded by the winning team, Chipfumbu always believed that it was only a matter of time before he too would be officially crowned a champ, having been training like one for the longest time.
In fact, before he moved to Johannesburg, under the guidance of renowned MMA coach Anthony Kettle of Panther Fighting Arts and Fitness Academy in Parklands, he had shown he had the mentality of a champion.
This is part of the reason Kettle took him under his wing as he could recognise the hunger, not only for fighting, but for winning at an early age.
Going to his fight against Jacobs, Chipfumbu did a great job of mixing it up and his grappling proved too much for the now former champ as he worked his way to a unanimous decision after five rounds.
Chipfumbu said even though he respected his opponent, the outcome of the fight was always going to go his way as he had worked too hard to let it slip away from him.
"It's a great feeling to be crowned a champion but I've always had the feeling that I'm a champion because I have been training with champions and interacting with champions.
"These guys have been pushing me a lot since we started training together and now that I am champion, I just have to keep going even harder because I have a target on my back," said Chipfumbu.
The champions he refers to are Gorimbo and former bantamweight champ Demarte Pena. He also gives credit to his former mentor Kettle who moulded him into the champ he is today.
"Anthony did a lot for me individually, from the amateur career and Jiu-jitsu tournament. I wouldn't pay a thing because I couldn't afford and he was taking care of everything including all the seminars I had to attend. Gina Betoko is another one I met in Cape Town and he was my stand-up coach so they did a lot to help me," said Chipfumbu.
Kettle has trained a number of champions in combat sport and says Chipfumbuhad always carried himself like a champ and it was, therefore, fitting that he had finally got to that gold.
"He is one of the most humble guys in the sport and he always carried himself like a champion. It's easy to work with him as he is always hungry and shows willingness to learn at all times.
"If you carry yourself like a pro and show the right attitude as he does, only great things will come out of that.
"Ours was like a father and son relationship and watching him win the tile is like just watching him graduating and I'm sitting there being a proud father," said Kettle.
"All the guys he is working with now have stuck to their work ethics and put many hours at the gym and that is what he has always been doing and never moaning, so if you work harder than your opponent you will be better than your opponent."
For now Chipfumbu is just taking all it in and embracing the new status he has in the EFC rather than worrying about what happens when he has to defend his belt.
"They will be coming, I just need to stay training as hard as I have been to make sure I remain at the top," he said.