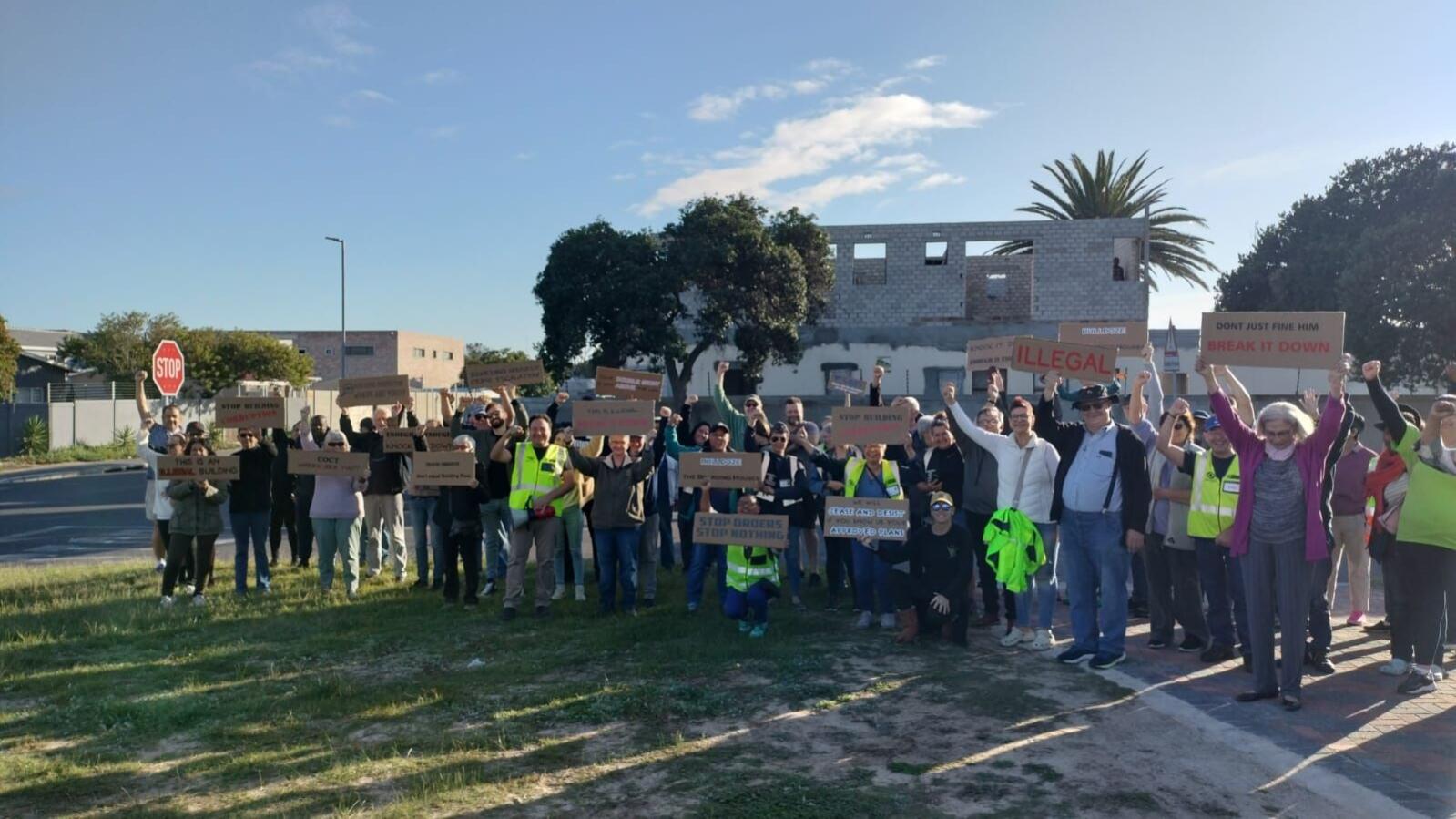 Milnerton residents took to the streets to protest peacefully on Saturday, calling for the City to investigate "illegal buildings, brothels and boarding houses".
On Monday morning, Tijgerhof Ratepayers' Association (TRA) started an online petition to include residents who couldn't take part in the weekend's protest.
The petition called for 500 signatures, and by noon on Monday, it had 401.
About 60 residents and representatives from various civic groups across greater Milnerton took part in the march.
"Bring down the illegal buildings, don't let them build up," residents chanted in front of various unfinished buildings in Sanddrift.
A two-page memorandum was handed to mayoral committee member for spatial planning and environment Eddie Andrews, on an open field on the corner of Pringle and Corsair roads, Sanddrift.
Nearby, construction workers could be seen working on a three-storey building, which residents claimed was also "illegal" and needed to be investigated.
The memorandum called for Mr Andrews to, among other things, investigate how "illegal buildings" impact crime, infrastructure and property values.
According to the memorandum, there are 160 alleged illegal buildings in Milnerton and "too many to count" in Phoenix.
The memorandum calls for work-stoppage orders to be issued and for developers who flout plans to be hit with big penalties with harsher consequences for repeat offenders.
"Developers should not just get a slap on the wrist, they should be held accountable," a protester shouted.
Mr Andrews said the memorandum would be reviewed but reminded residents of the "legislative processes which need to be followed," when asking owners to comply with building by-laws, and work-stoppage and demolition orders could only be obtained through the courts.
"I am well aware that, in most instances, the buildings are up before plans have even been approved and sometimes have even been fully completed. This is not a new concern for us, so we are working together to deal with those contravening the building by-laws."
He said he would set up a meeting with two representatives from each civic group to discuss the way forward.
When he asked the crowd if anyone had any questions, residents said they feared for their lives because at least six of them had been threatened by the "developers".
Describing an encounter with one property owner, Robyn Ilcheva, of Tijgerhof, said, "I plucked up the courage to let him know that he is building illegally, and he said, 'you white (bitch), I will find you.'
"Why do we need to go through things like this? Us residents expect the City to do their job and respond to our problem-building requests and enforce stop orders as requested."
Bridgette Lloyd, of Summer Greens, demanded that Mr Andrews investigate "people within the City of Cape Town who is getting paid or bribed to work hand-in-hand, with developers".
She said building inspectors were putting residents' lives at risk by revealing who had complained, "and that's when they start threatening and intimidating us".
Mr Andrews asked those who had been threatened or who claimed City officials had been bribed to pass plans to submit sworn statements.
Phoenix representative Linda Mqikela said infrastructure was buckling under the strain and narrow streets were filled with raw sewerage because there were too many boarding houses in the area.
A 72-year-old Sanddrift resident, who did not want to be named, said that two weeks ago, he had called City Law Enforcement to visit one of the developments, where a loud generator was being used, but before the officers had arrived a bakkie had picked up all the construction workers from the site.
"When Law Enforcement got there, no one was there, and I was told my case was closed. About 40 minutes later, the workers returned to the site. So I am begging you to investigate these people, Mr Andrews. Someone is getting something out of the deal here," he said.
Milnerton Central Ratepayers' Association chairman Bouwe van der Eems said he looked forward to responses from the City.
Tabletalk contacted the developer who is accused of threatening the residents, but he declined to comment.